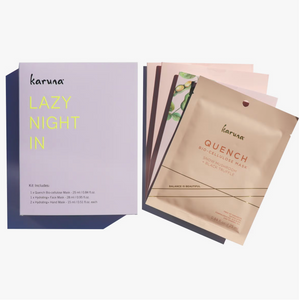 Treat your skin to rejuvenating T.L.C the next time you devote an evening to some relaxing self-care. Our LAZY NIGHT IN features 3 ultra-nourishing, skin-soothing sheet masks sure to bring a sense of relief to tired, dry or irritable complexions while delivering a natural glow and optimal balance. Make masking your lazy night go-to! Valued at $30.
What's inside:
1x Quench Bio-cellulose Mask – 25ml/ 0.84 fl.oz.
1x Hydrating+ Face Mask – 28ml/ 0.95 fl.oz.
2x Hydrating+ Hand Mask – 15 ml/ 0.51 fl.oz. each