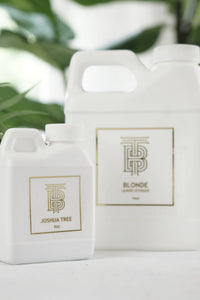 Joshua Tree Laundry Detergent features the captivating scents of Sandalwood, Cedarwood, Vetiver, and Amber Wood. It is formulated to clean effectively yet remain gentle on delicate, specialty fabrics with a built-in fabric softener and stain remover.
Use the Joshua Tree Detergent to clean your linens, lingerie, fine fabrics, and much more for the long-lasting, soothing aroma of Thomas Blonde fragrances.
Thomas Blonde Detergent is HE washing machine compatible.
Size: 16 oz.