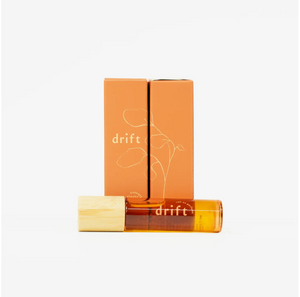 100% essential oil perfume. Each of these perfume blends is made using organic jojoba oil and an accord of only wildcrafted, organic or sustainably harvested essential oils and absolutes.
These oils pack a punch & are great for rolling on pulse points.
DRIFT - earthy, citrus, smoky blend of Palo Santo, vetiver, palmarosa, geranium, cedarwood, citrus, sandalwood, labdanum, champaca flower, frankincense, lavender, petit grain
.
0.35 oz / 10 ml
glass vial with wood lid & glass rollerball