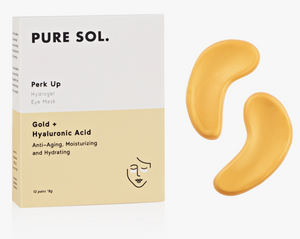 Soothing under eye hydrogel mask helps rejuvenate the delicate eye area, reducing the appearance of fine lines and wrinkles. Gold brightens, hyaluronic acid moisturizes and hydrogel locks it all in. Keep in the fridge for a cooling boost and say hello to re-energized under eye area.
INGREDIENTS
HYALURONIC ACID: Hydrates + Plumps Skin.
GOLD: Stimulates the cells, improves blood circulation to firm skin and prevent premature aging and wrinkles.
OAT PEPTIDES: Anti-inflammatory, Moisturizing , and Soothing
VITAMIN C: Antioxidant and skin-soothing. Can improve the appearance of signs of aging.
GRAPE SEED EXTRACT: High in anti-oxidants + fights free radicals to help prevent fine lines.